These wonderful letters are ideal for putting on bedroom doors, toy boxes, beds etc, the ideas are up to you. Each letter is approx 7cm high and are suitable for 3+, a great learning item that stick easily with a self adhesive pad (not included), why not add a small magnet to the back and spell out your child's name on the fridge.
                                                           SPOTS AND STRIPES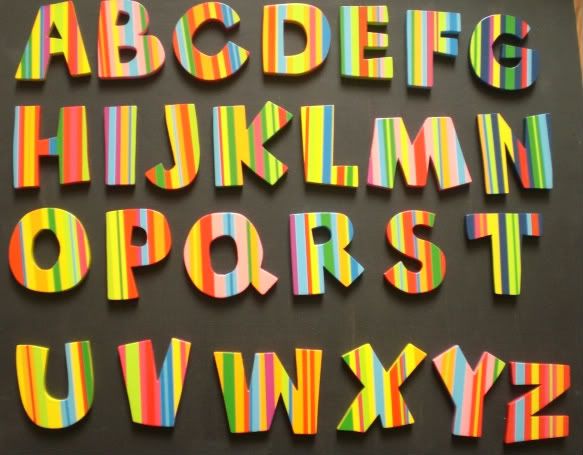 These hand painted wooden Alphabet letters are priced at £1.25 each and our usual p+p rates are applicable.
To Order click on your choice of spots or stripes or feel free to mix both the click on the required letter and add to cart, then click on continue shopping and repeat the process until you have finished your order.
 ANIMAL LETTERS
These wacky wooden animal letters are a great way of teaching animals and letters at the same time choose your child's initial or whole name it's up to you. The animal letters are 7 x 8 cm and would brighten up any area with their cheerful design. Animal letters are just 0.99 pence each.
To order please add letter to cart, then click on continue shopping and repeat the process until the required order is fulfilled.
Alternatively if you find it easier please feel free to email 
 us at
Contacttoadstool@aol.co.uk
 stating letters required and which style you prefer and we will email you a paypal invoice for the full amount, we also offer you a preview photograph so you can see what your choice of letters look like if you require this free service please don't hesitate to ask when you email with your order.